CORPORATE TRAVEL MANAGEMENT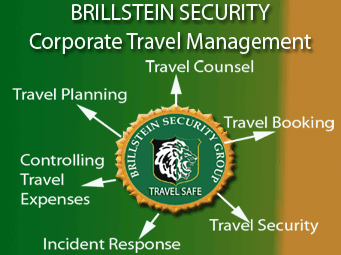 In today's modern world of globalized business, international travel is almost part of the daily agenda of most corporations and executives. Thus, a secure, effective and systemized approach to handling the planning, booking, supervision, cost controlling and assistance of the corporate traveller is of paramount importance in order to insure successful business travel and safety at all stages.
It is our goal to make sure your trip is safe and comfortable and at the same time cost-effective. With our worldwide network of security companies (www.brillstein-security-group.com) we can serve our clients anywhere in the world. we offer a true FULL-Service with every possible service you may require. With our up-to-date information network we are in a position to help save on travel expenses. Your success is our success. We'll organize your complete trip, counsel you on possible risks, we can supervise the trip, provide for secure means of communications, supply travel monitoring, we'll be at your disposal in any kind of crisis or emergency, even up to emergency rescue operations, close protection or any other service you may need, such as secure transportation, dedicated support line 364/24/7 and many others.
Our service can be fully customized to your individual plans and needs. We can supply single services or take care of your trip from A-Z. Reducing your travel expenses is of course part of our complete concept. As regards your travel security, our TravelSafe program will ensure complete safety for as little as only 75 USD per trip and person.
Please also consult our list of complete security services. Unlike most other suppliers of corporate business or travel secruity services, Brillstein Secruity offers you ALL services first hand. We do NOT cooperate with sub-contractors. We offer you high-end security, including elite emergency rescue and close protection teams for any kind of crisis situation, emergency extraction and any other security service you may ever need. We have elite teams on constant stand-by, ready to deploy within 24 hours worldwide, any time, anywhere. Please do contact us any time with your queries, we'll gladly consult you as regards your travel projects.